Condiments/Sauces/Dressings
It's not the end of the world. But the Mayan calendar winding down on one cycle and hearalding a new age is as good an excuse as any to celebrate the glorious food of the Yucatan. On December 21, I'm going to dust off the slow cooker for an all-day roast of cochinita pibil, which I'll serve that evening with the traditional condiment of pickled red onions. Am still mulling over the rest of the menu, but it wouldn't be a Mayan meal without avocados, black beans and salsa verde. Throw in a cocktail (with mezcal?) and dessert (Mexican chocolate bread pudding?) and we'll be set.
Thanks, indeed for a beautiful, crisp and clear fall day for the first Thanksgiving at Kate's first home. This year's gathering of international and food-obsessed guests was reflected in the menu that blended traditional elements with the tastes of Mexico and the British Isles.
Here's the menu:
Squash on Toast.  Amelia took this a step higher by making her own baguettes.
Crab and Artichoke Dip
Roast Turkey with Chipotle and Apple
Chestnut and Tart Apple Dressing
Potato-Tomatillo Gratin. A cooking class two days before Thanksgiving, and taught by the charming Eliza Gonzalez, inspired this dish. We took the potato filling from stuffed jalapenos — combining potatoes, garlic, tomatillos and ricotta cheese — and turned it into a gratin for the table (and potato pancakes the next day).
Braised Cabbage, with apples and clove.
Bread Sauce, another British Christmas favorite that was new to the table, a simple sauce heady with clove.
Green Bean Casserole. Yup, the delicious, old-school dish we know from childhood, complete with crispy canned onions on top.
Little Balls of Happiness (Julia Child's Oignons Glacés a Blanc).
Mocha-Pecan Pie, now our gang's traditional dessert.
Apple Tart. Listening to an NPR special on Julia Child gave us the idea to make an apple tart with souped-up apple flavor. She put fresh apples on homemade applesauce. We laid them over apple butter and brushed them with apple jelly. A tasting of the Genepi liqueur brought from a friend's home region in France provide the inspiration for a glaze touched with that herbal Alpine liqueur.
Cranberry and Pear Hand Pies with Vanilla Bean Ice Cream.
This slideshow requires JavaScript.
This marks the first entry by our friend and Bangkok denizen, Marcela Kelley. We are excited to share her adventures in food from Thailand and around Southeast Asia.
I've been living in Bangkok for 12 years now. When I first moved to this massive, crowded city (with its very distinct cuisine), trying to reproduce any of "our" recipes was quite a challenge. Nowadays, you can find most of the ingredients to cook nearly anything–even, say, a truly American Thanksgiving.
I love to cook, and the array of food available here presents an amazing opportunity to try new ingredients, bring about not only old favorites (with a twist) but also new and exciting dishes, and create a modest, flavorful, Eastern-Western fusion that seduces the palate.
For example, I was cooking chicken with mole poblano (the mole courtesy of Faustina, an amazing woman and great friend who owns a successful line of Mexican products called El Charro here in Thailand), and  I thought I needed something to add color to my dish. Something to boost vibrancy and give a little kick to the dish.
I went for a classic Mexican condiment, chiles en vinagre (chilies in vinegar). This is fairly easy to make and can be reproduced anywhere in the world—as long as you can find green chilies. Traditional Mexican recipes call for jalapeños, serranos or cuaresmeños. But here, I found a local version of Anaheim chilies, that did just wonderfully. The recipe was passed on to me by a woman I met when I first arrived in Bangkok.
Now that you have your chilies, add onions, carrots, garlic, peppercorns, cumin, bay leaves, salt to taste, white vinegar and olive oil and voila. Keep the mixture in a glass jar… if you can. They will be gone in no time!
You've probably seen those jars in the dairy aisle, next to the sour cream or cream cheese. Something called crema — from Mexico, or Salvador, or Guatemala, or even L.A.  And you've likely wondered what it was, or how exactly it was different from the nearby cream and/or sour cream. Well, stop wondering and pick up a jar. Crema is a wonderful addition to the repertoire, easily swapped for that sour cream, crème fraiche, cream or yogurt in dishes both savory and sweet. It has the texture of a thick cream, or a thinned sour cream; the tang of sour cream, but with a lighter acidity; the lightness of crème fraiche, but with a bit more salt to land it on the savory side.
The Three Points cooks first tried it out some time back when gathering ingredients for a scalloped potatoes dish. Finding ourselves at a grocery in a largely Hispanic neighborhood, and looking at the array of crema brands in the cooler, we decided to give it a try. Used in place of milk, crema produced a wonderfully creamy, rich, and slightly tangy version of scalloped potatoes. The guests loved it.
Last weekend we once again found ourselves face-to-face with an array of crema, this time at the local supermarket (proof that Latin products are becoming increasingly easy to find at mainstream stores). We'd stopped in to get some cream for a chocolate ganache, but we again looked at the dairy case, exchanged glances, and said, "Why not?" The resulting ganache for our four-layer Black and White Chocolate Butter Cake was so good — reminiscent of a sour cream chocolate frosting — that we opted to frost the sides of the cake with it instead of just using it for filling (a beautiful brown sugar buttercream went on top).
Then, taking a cue from the traditional use of crema as a topping for fish tacos, enchiladas and other Mexican/Latin American dishes, we drizzled some into the fresh Red Okra Soup, where it proved a perfect match to the soups smoky heat.
It's just the beginning.
Remember. Crema.
Happy St. Patrick's Day, everyone! Instead of dumping questionable food coloring into my brew, I looked elsewhere for Erin-spiration.
Fresh from a trip to Mexico, I opted to celebrate the summerlike temperatures with a fiery green sauce (for the plantain empanadas planned for tomorrow's dinner). Tomatillos, garlic, onions, serranos, cilantro, salt whirl together in seconds revealing a tangy, spicy salsa verde cruda that is almost good enough to drink on its own.
Breaking out the Mexican avocados next for a little guacamole.
Anticipating that  The Artist would take home top prizes at this year's Academy Awards, the Three Points cooks also turned to Old Hollywood for inspiration this weekend. By that we mean two of the restaurants that are synonymous with Movieland's Golden Years: The Brown Derby and Chasen's. Together they hosted Hollywood elite and produced some classic recipes that proved even stars love their comfort foods, like Chasen's Chicken Pot Pie and Chili.
On the menu for our multi-city Oscar viewing parties:
The Brown Derby Cocktail. A refreshing aperitif of bourbon, grapefruit juice and honey syrup. Grapefruit seems to have been a theme at The Brown Derby, whether in cocktails or cakes. Go for the fresh-squeezed juice suggested and use leftover  grapefruit segments, as we did, in another throwback salad, tossing with chunks of avocado and this old-fashioned fruit salad dressing.
Cobb Salad. The Brown Derby, so the story goes, is progenitor of this classic American salad, created from leftovers by Bob Cobb, a co-owner. We all know  it and love it… though its original form included chicory and watercress, which are far less likely to appear on today's menu (or grocery shelves). So, we went with mixed greens. The recipe also calls for boiled (boring) chicken… So we poached it Pierre Franey style (a warm bath with carrots, celery, onion, bay, thyme, marjoram, garlic and — our twists — lemon pepper and a hit of ginger).
Chasen's Chili.  Legend has it that Elizabeth Taylor loved this chili so much she had orders of it flown to Rome while she was filming Cleopatra (and conducting a torrid affair with co-star Richard Burton). The list of ingredients is pretty simple in comparison to today's more complex recipes, but something about the combination produces one damn, fine chili. (We suspect that browning the beef and pork in butter before adding to the pot has something to do with the crazy tender, succulent results. Don't skip this step if your diet can take it.) In honor of the Oscars, served with sparkling Cava.  A award-winning combo, indeed. We  think Liz, who was honored in memoriam at the Oscars, would approve.
Brown Derby Grapefruit Cake. We went with the LA Times Magazine's modified version of this cake, sans candied grapefruit peel. Goosed with a little grapefruit essence from Aftelier Perfumes, the cake packed a tart punch to counterbalance the cream cheese frosting.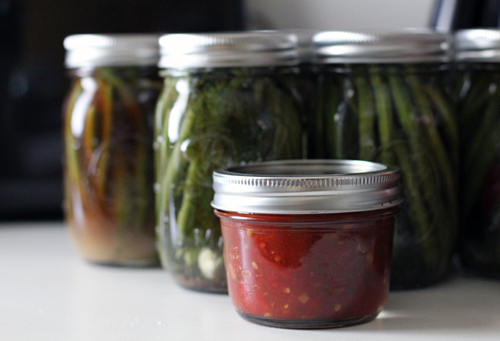 Maybe it's the crisping of the morning air telling me the end of the harvest is creeping up on us, but I couldn't resist an urge to stuff things into glass jars this weekend. I made up a batch of yogurt with my market milk and, in response to family demand, did up a final round of my usual pickled green beans, plus a wasabi (!) version. Now every time I open the fridge, I'm tempted to open a jar and taste one for "readiness".
This week the market also boasted mounds of apples, $10 a basket full, though since I'm not generally a sweets person, fruit preservation is not high on my list of priorities. However, I have had a craving for tomato jam ever since I tried it out at Woodberry Kitchen a few weeks ago. This unstrained version which I found in the NYTimes via the Wednesday Chef seemed like it would suit perfectly. Aside from some occasional stirring during its 90-minute cook time, it took pretty much no effort until I got a little sloppy pouring the hot liquid from the very hot pan into the small containers. Lesson learned.




Product review: It's so amazingly spicy (thank you, garden jalapeno!) and sweet and tomato-y, this is a condiment that's bound to go fast. Used as a pizza topping last night and a scrambled egg dresser-upper this a.m., I have already seriously dented the jar.
I may have to rethink sharing.
A guest post from our globe-trotting and sometimes DC-based friend, Michael Turner.
"I like hot sauces. I've been lucky enough to try them in Thailand, Indonesia, China, Mexico, Colombia and points in between. What I've noticed is that the ingredient list isn't long or complicated. Usually it's just peppers, salt and vinegar. You don't have to be a talented chef/chemist to make your own. So I do. It takes about an hour to make.

Put on some surgical or dishwashing gloves. (The doctor will see you now… gloves prevent the peppers from burning your hands as you will be chopping many of them.) Use a knife to remove the stems and white parts of a bunch of same-colored peppers. Coarsely chop and place into food processor. The more seeds in the food processor, the hotter the sauce. Pour enough vinegar into the food processor to get a really good purée going. Pour the purée into a pot and slowly bring to a simmer for 5-7 minutes, stirring often. As you're bringing to a simmer, add as much vinegar as you want to make the sauce as thick or thin as you like. Throw in a handful of salt. (You can always add more later). After simmering the hot sauce, put back in food processor and purée once again. Put in a glass pitcher (or other nonreactive container), cover with a cloth and let sit for two days on the countertop. Don't worry: It'll keep.

I did this batch (pictured) with orange habañero peppers and added fresh papaya. Feel free to add other ingredients such as garlic powder, honey, etc. Enjoy."
Yesterday, I bought a whole watermelon at the market.
This would not have been such an issue if I had not already purchased two full bags of produce. Or if I wasn't counting on the bus to get me home. But these things happen. Dear Mr. Bus Driver who waited for me to sprint-waddle over to the stop before taking off, even though you were already pulling back out into traffic when you noticed me: I hope a cool breeze always follows you all summer long for your kindness.
So, as I said, I made some purchases, got myself home, then broke training and cranked my air conditioner while I contemplated what to make. In the end, most of my construction work ended up in jars. More ginger beer, more yogurt, more watermelon juice (mixing this with seltzer is my new favorite drink, and I'm fully stocked up now). The piles and piles of baby cucumbers at the market demanded a batch of sweet pickles and the tomatillos, a cubanelle, and some of the super-hot garden peppers still hanging out in the freezer from last season went into a simple and lovely roasted tomatillo salsa verde. Wanting to put that condiment to use immediately, I stuffed the remaining cubanelles with rice, a couple of the tomatoes, and (avert your eyes) a meat substitution product (for the health and happiness of the husband).
Once the oven was on to bake the stuffed peppers, I decided I might as well make use of the already-steamy kitchen to do up the fairytale eggplants as well. Those were all sliced in half, dropped into a hot chef pan with a bit of water, and then finished with this awesome sauce of rice vinegar, sesame oil, soy sauce, sake, ginger, garlic, and a pinch of sugar and cornstarch. Six minutes from raw to such a tasty side dish: in this kitchen, you could even call that practical.